500 Days To Beat NL100 Zoom Or Quit Poker -
448 Days To Go - Results
Today was a
VERY PRODUCTIVE DAY
! I was awake with the birds at
and was just finishing working at
but more to the point, almost all of those hours I spent doing something
USEFUL
!!!
How Can THIS GRAPH Be Useful..?
On first inspection this graph of today's results might look
more like a train wreck
than something useful right...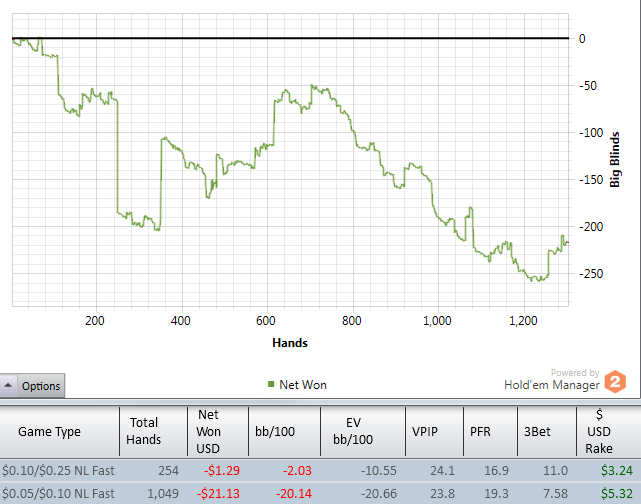 And previously I would tend to agree. It is not a work of art!!!
However! Something
very useful is coming out of this HUGE downswing
that I am experiencing...
I am in an extremely fortunate situation. My coach is EASILY the
best coach
I have had mainly because he is very attached to my results and my personal progress. So when I dropped him a message to let him know I lost 2 buy-ins and would be reviewing my play he called me straight back for (another)
emergency coaching session
!!! I have never had a coach like that before, not even close!
So, we spent 60 minutes tearing my database apart looking for more
leaks
.
First of all we discounted the possibility that my new found skills in SB and
BB
could be causing me to burn money -
my win rate has improved
in those positions during the downswing!
Then we did some more hunting and
my win rate in MP and CO is terrible
over the last 20,000 hands!!! Very very terrible in fact!
So at first we assumed it must be some
variance
to have those bad win rates there because in my older samples it is not the case. We looked at the bigger pots and it is true! I have been running like an overweight snail!!!
BUT...
That is not all that we found!
We did also find some other
thought process leaks
that are affecting my win rate rather a lot too!
Now, if I am honest with you I am not exactly sure what it is that we found! (EDIT: Not sure why the hell I am saying "we" here, my coach found it of course!!!) My day was already
19 hours old
when we struck this (possible) GOLD so I was tiring and am not even sure what the
leak
is exactly! But it is there and, hopefully, it is something that is
worth a few bb/100
to me when I work on it and improve it (he said pleading to the poker Gods!).
Tonight I will pester my coach again so we can immediately start to get to the bottom of this!
What Other Productive Things Did I Do?
Training at Wing Chun Kung Fu class

29 push ups

7 minutes jumping rope

10 minutes meditating

Studied poker for 30 minutes (on top of the coaching)

Went to work (surely this does not count!?)

Did some writing

I think that is enough for the day. I just hope we did find some GOLD there because days like that feel like they deserve something special to happen!
Can't wait for next session!!!
447 Days to go - The force is strong in this one!!!!